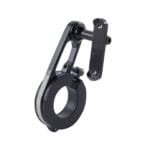 Bontrager Adjustable Transmitr Remote Mount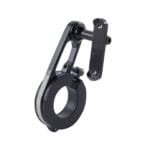 Bontrager Adjustable Transmitr Remote Mount
$34.99
$34.99
An easy to install, infinitely adjustable Transmitr mount that fits any bar 31.8-22.2mm.
Description
Product Details
Additional information
Description
Bontrager Adjustable Transmitr Remote Handlebar Mount
This adjustable mount provides an infinite range of angles and positions for the handlebar placement of your Transmitr Remote.
The unique CNC Aluminium design allows for convenient placement and sturdy mounting to handlebars from 31.8-22.2mm.
CNC alloy design provides light and stable mount
Allows for infinite angle adjustment
Compatible with 31.8mm – 22.2mm bars
For use with Transmitr Wireless Remote