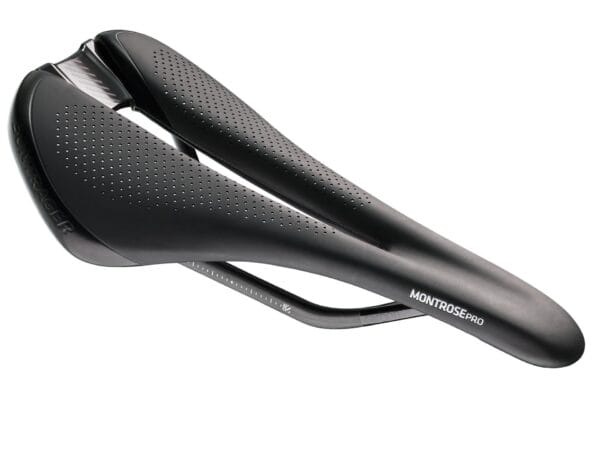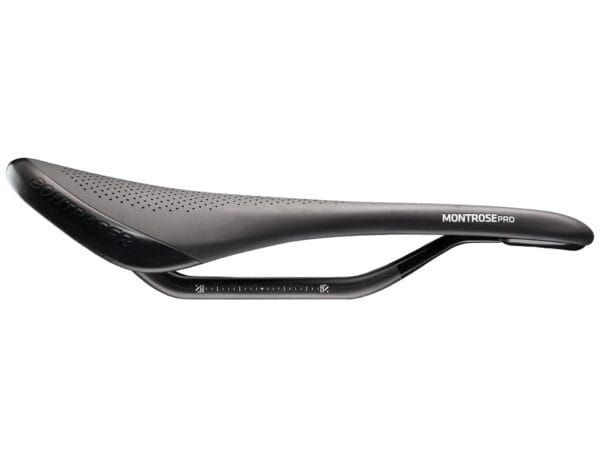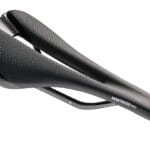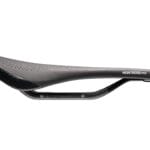 Bontrager Montrose Pro Bike Saddle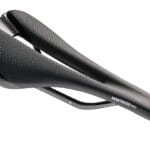 Bontrager Montrose Pro Bike Saddle
$249.99
$249.99
Ultralight, high-performance Posture 2 cutout saddle for road or mountain racers.
Description
Product Details
Specifications
Additional information
Media
Description
Poised to attack
The Montrose Pro Carbon is the cutout saddle that every serious athlete can appreciate. Built to be at home on either your road or mountain bike in an aggressive Posture 2 position, the Montrose shape offers increased stability at the nose and better pressure distribution throughout. The carbon rails and shell keep this saddle mean and lean.
An aggressive Posture 2 saddle that excels both on the road and mountain bike
Suspended oversize carbon rails increase compliance for ultimate comfort
Contour Relief Zone Plus (CRZ+) full-saddle cutaway enhances soft tissue protection
The carbon fibre-reinforced shell strikes a balance between strength and a light weight
The abrasion resistant polymer-edge adds durability without adding weight
inForm products optimise your natural movement for sustained, higher performance
Requires specific seatpost ear clamps for oversized saddle rails
| | | |
| --- | --- | --- |
| Size | 270mm x 138mm | 270mm x 148mm |
| Length | 270 mm | 270 mm |
| Width | 138 mm | 148 mm |
| Rail dimensions | Oval 7×10 mm (Oversized) | Oval 7×10 mm (Oversized) |
| Cover material | Microfibre | Microfibre |
| Rail material | Carbon Fibre | Carbon Fibre |
| Weight | 169g | 172g |
Additional information
| | |
| --- | --- |
| Colour | Black |
| Length x width | 270mm x 138mm, 270mm x 148mm |
<table>
<thead>
<tr>
<th scope="row">Size</th>
<td data-spec="Size">270mm x 128mm</td>
<td data-spec="Size">270mm x 138mm</td>
<td data-spec="Size">270mm x 148mm</td>
</tr>
</thead>
<tbody>
<tr>
<th scope="row">Length</th>
<td data-spec="Length">270 mm</td>
<td data-spec="Length">270 mm</td>
<td data-spec="Length">270 mm</td>
</tr>
<tr>
<th scope="row">Width</th>
<td data-spec="Width">128mm</td>
<td data-spec="Width">138 mm</td>
<td data-spec="Width">148 mm</td>
</tr>
<tr>
<th scope="row">Rail dimensions</th>
<td data-spec="Rail dimensions">Round 7×7 mm (Standard)</td>
<td data-spec="Rail dimensions">Round 7×7 mm (Standard)</td>
<td data-spec="Rail dimensions">Round 7×7 mm (Standard)</td>
</tr>
<tr>
<th scope="row">Cover material</th>
<td data-spec="Cover material">Microfibre</td>
<td data-spec="Cover material">Microfibre</td>
<td data-spec="Cover material">Microfibre</td>
</tr>
<tr>
<th scope="row">Rail material</th>
<td data-spec="Rail material">Austenite</td>
<td data-spec="Rail material">Austenite</td>
<td data-spec="Rail material">Austenite</td>
</tr>
<tr>
<th scope="row">Weight</th>
<td data-spec="Weight">216g</td>
<td data-spec="Weight">224g</td>
<td data-spec="Weight">230g</td>
</tr>
</tbody>
</table>